An early morning trip on a May morning did not turned out to be unfruitful at all. A small group of four planned a morning to be a good time to visit dry deciduous forests towards south of Bangalore. Rangaswamy betta being one of the closest hill of considerable vegetation and elevation, we decided it would be a good place to look for some orchids, if lucky we might get to see some in bloom as well.
The morning dive to the top of the hill in the misty morning is a experience by itself. We could spot quite a few plants of Vanda testacea in bloom on certain Terminalia trees en-route. Having a temple at the top of the hill, a bit of crowd is expected at the top. Since our chosen timing was early morning for the visit there were hardly any people around and that made it a quiet place.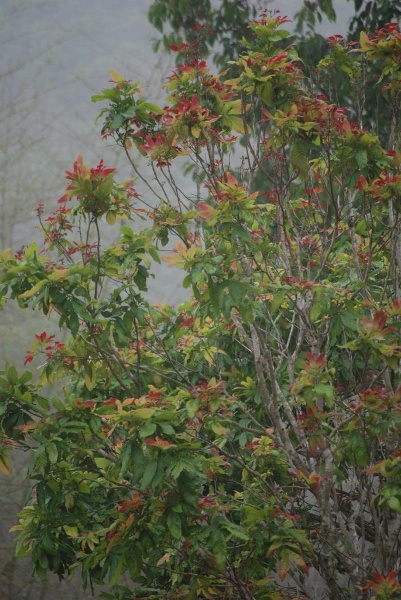 As we proceeded further towards the top of the hill, we could see the trees having Luisia plants. On our one of the earlier visits we were able to see the plants. But our time of visit was of a non-flowering season for the Luisia species there. However this time around the we were lucky enough to be on time for the bloom. We could actually see Luisia zeylanica in full bloom all over a tree. This brought something wonderful to our morning experience on the hill top.
Once we were content with the photographs and observations of the flowers we moved a further to a place where we had seen a Polystachya concreta plant on our earlier visit. We we reached this jack fruit tree just next to the temple, to our dismay we saw the very branch which hosted the single plant had been cut off. That ended our search for this plant. Apparently being close to temple and God did not prove to be safe enough for this species there.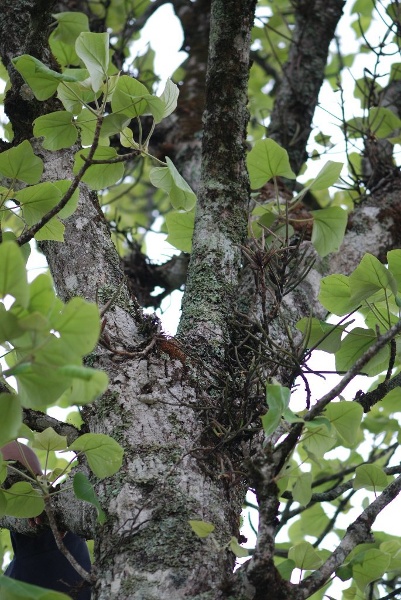 We went around further taking more photographs of the place. As the Sun started coming up it was time for us to head back and get back to the city. Having seen both Luisia flowers and tree branch cut, it was outing which ended with a mixed feeling of gain and loss, mostly loss!